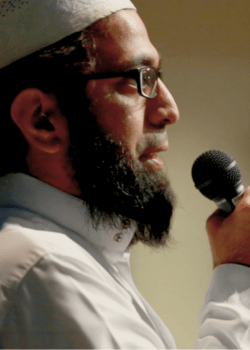 Shaykh Umer Esmail is a Canadian born, traditionally trained scholar who started his quest to acquire Islamic knowledge at a young age and continued formal studies of the Sciences of Shari`ah in different parts of the world for thirteen years.
He initially studied Urdu and Arabic as well as other traditional Islamic Sciences at the Institute for Islamic Studies in Dewsbury, UK. There he acquired an Ijazah (teaching certification) in Hanafi Fiqh, Hadith, Tafsir, Tajwid and the Ten Qur'anic Qira'at. He then traveled to Karachi, Pakistan, where he studied under some of the greatest living scholars of our time; including Justice (Rtd) Shaykh al-Islam Mufti Muhammad Taqi Usmani (may Allah preserve him). There he received an
Ijazah in ten major books of Hadith. He also spent two years specializing in the science of Fiqh and Ifta' (giving legal verdicts) and during this time he published hundreds of Fatawa (legal verdicts).
Furthermore, he was blessed with the opportunity to study Islamic Finance under the tutelage of Mufti Muhammad Taqi Usmani. He has an Ijazah in Hadith from world-renowned Hadith scholars including Shaykh al-Hadith Maulana Sarfraz Khan Safdar, Shaykh al-Islam Maulana Mufti Muhammad Taqi Usmani, Mufti Muhammad Rafi Usmani (Grand Mufti of Pakistan), Shaykh al-Hadith Maulana Mufti Sahban Mahmood, and Shaykh al-Hadith Maulana Zahid-ur Rashidi.
After graduating, Mufti Umer Esmail worked six years as the Imam at the North Austin Muslim Community Center in Austin, Texas. In addition to leading prayers, he taught classes in Islamic Sciences, including Arabic, Tajwid, Islamic Finance, Fiqh, Aqidah, Hadith and Tafsir. He has been the spiritual Advisor for the Austin Chapter of MYNA since 2003.
Courses Taught
Shaykh Mufti Mohamed-Umer Esmail is currently not teaching any courses.